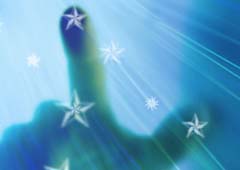 Today's 25 attendees became immersed in the second RENAISSANCE SPEAKERS SOCIAL MEDIA WORKSHOP, where we drilled the one key factor required for individual success with the Renaissance Speakers Social Media Program.
That factor centered on the details of publishing speeches, public speaking articles and success stories to the new RenaissanceSpeakers.org social media website.
In short order, a handful of members who had never published anything at all to a website were teaching the others in the group exactly how to do just that.
This workshop featured so much audience participation, that two separate locations were used to support it: the Theatre and room 101 at Celebrity Centre International.
Additionally, the group discussed possibilities for a new Renaissance Speakers "Tag Line" that will represent the club on the new website. The ideas that were developed will be surveyed before final determinations are established.
There was also group dialogue regarding the features that would be most beneficial for a new club digital video camera and microphone to help members publish videos of their speeches to YouTube and on the new RenaissanceSpeakers.org website.
The event was punctuated throughout with humorous questions and answers and concluded with a new "homework" assignment to apply the skills demonstrated during the workshop.